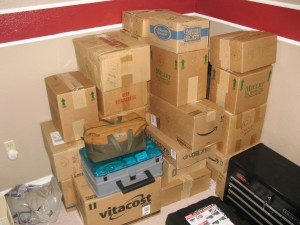 How many times have I asked myself this week the mildly penetrating question, "Do I really need that?"   It seems to be the recurring theme of our lives this month as Jana and I begin to pack our lives into a cornucopia of rough rectangular boxes.   Many of our possessions suddenly have been reduced from the familiar shapes and warm fuzzies of precious books, pictures, and keepsakes to a precarious stack of sagging brown squares shoved into the corner of our study.   Sad, huh?
Almost whimsically, I've also asked random rhetorical questions like, "Do they sell zip-ties in Italy?   How about WD-40?   Any chance I can buy Splenda there?"   I think that the answer to all three questions is no. You might giggle and snort about such inquiry, but these are the thoughts of a committed planner who is moving overseas!   One side of my planning stems from an honest desire to prepare for our anticipated needs in Italy in an economical and efficient manner.  However, the dark side of that coin is my sinful desire to control my circumstances, insulate myself from change, and maintain the status quo in my life.
I wholeheartedly believe that part of His goal in sending us to make disciples in Italy is to unclench my grip on circumstance control, strip away my aversion to change, and shatter the mundane rut of routine that I so often travel.   While I don't for a moment think that our calling to Italy is about me, I do see His hand to redeem every aspect of the transition to life there for His glory in my heart.   Anyone notice a pattern here?   Trust.   Or, the lack thereof.   My sinful flesh thinks: "If I'm able to control, insulate, and maintain, I have little need of God."   That whole line of thinking is in itself high treason against the One Who supplies my very breath and my next heartbeat!  What kindness He shows in graciously liberating me from these freedom-stealers so that I can fully engage the exhilaration of having to desperately depend on Him by faith.
Perhaps another layer of this mire in my heart is due to cultural myopia.   I carry within me the arrogant–yet politely unspoken–belief that my way of doing things is somehow inherently superior.   While I've lived among Italians and have grown to love them and their culture, my pride provides much more than a simple affinity towards my country and its customs.   This is more than a simple preference for American things like fresh brewed iced tea, Craftsman tools, and Jif Natural Peanut Butter.  It's the foundation for the belief that I have little to learn from my adopted country and countrymen–the insidious idea that somehow I've got it all figured out.   Father, save me from this ingrown and illegitimate thinking that reveals the ugly incurvature of my heart!   Free me to yield to all that the Spirit wishes to teach me, extract from me, and deposit within me through this precious new culture and people!