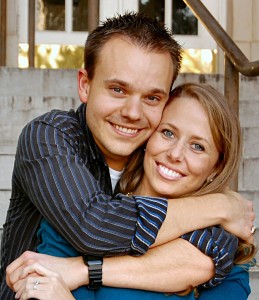 David and I met through my oldest brother Jason and his wife Allyson. David met them during his 2-year missions stint in Italy (Jason and Ally are missionaries in Italy as well). They became friends and colleagues in Italy, and David likes to pick on Jason now for never mentioning anything about his sister!
At the end of 2007 Jason and Allyson came to Texas to spend a few months on furlough. David and Jason arranged to meet up one week. Leading up to the meeting, David jokingly wrote Jason a message to feel free to bring a "Godly, attractive, single, missions-minded woman along." Jason then mentioned me to David and they began making plans to meet me without making it awkward.
On January 3, 2008 I had plans to meet 3 friends from college. I invited Jason and Allyson, and my younger brother Joel along. On my way to meet them, Jason called me and informed me he had invited a friend from Italy to come along. I KNEW what he had up his sleeve and frankly was quite annoyed that he would spring this on me. Annoyed later turned into extremely thankful.
Dinner was fun, though I barely spoke 10 words to David. David likes to say that I was cool as a cucumber. I confronted my brothers afterwards and they 'fessed up to the set-up idea. Allyson said, "David is the type of guy we would love to see you settle down with."
A few days later, David sent me a message on Facebook. For about two weeks we wrote back and forth–each time the messages would get longer. Then he asked for my number, called me, and asked me out after a 3-hour conversation on the phone.
It did not take me long to see in David what my family saw in him. Every day I spent time with him the more I grew to respect him, appreciate him, and months later to love him. One of the difficult things for me in the beginning of our relationship was the fact that David was a package deal. If I accepted a relationship with David, it consequently meant I accepted the possibility of a future in Italy as a missionary. I was not opposed to the idea, but needed to think and pray about it first.
We both prayed constantly for God's guidance and peace. In May, I think, I realized that I loved David. In June, I was able to visit Italy with David and get a glimpse of the ministry there. In July, David asked me to be his wife! On January 3, 2009–a year from the day we met–I became Mrs. Showalter!
I am so blessed to have a man who loves God above all, who wants to spend his lifetime sharing the love of Christ with people who do not know Him, and who loves me deeply. I so strongly believe in what David stands for and in the God he serves that I would follow him anywhere in the world to work alongside him.